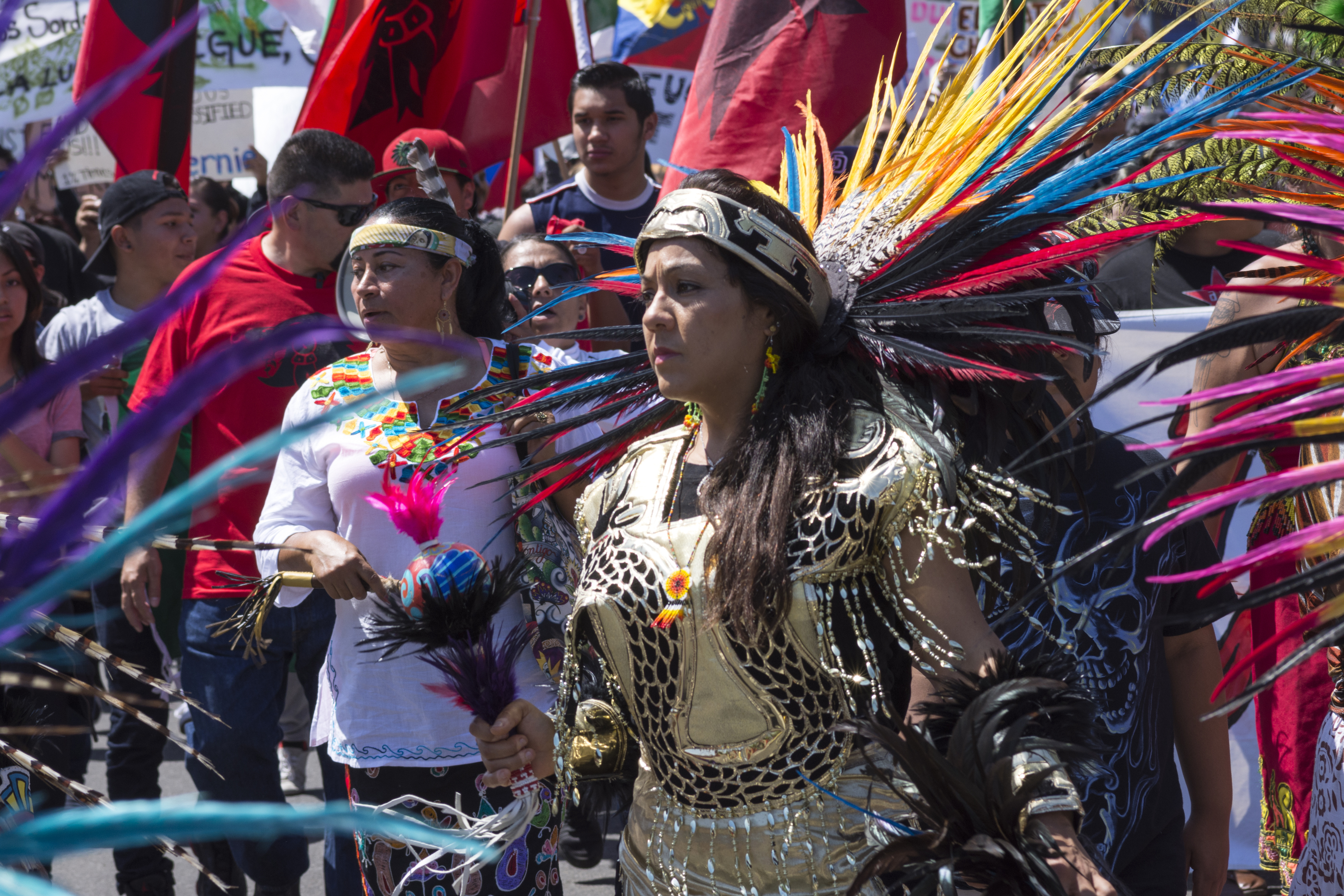 Mobilize Monday: Native American Sisters at the Center
By Sakiera Malone, WE CAN Intern
In our final Women's History Month post, WE CAN honors two Native American women. Both have shown incredible courage as leaders on behalf of indigenous peoples nationwide. It was my pleasure to learn more about them, and I hope that you will join me in honoring their contributions!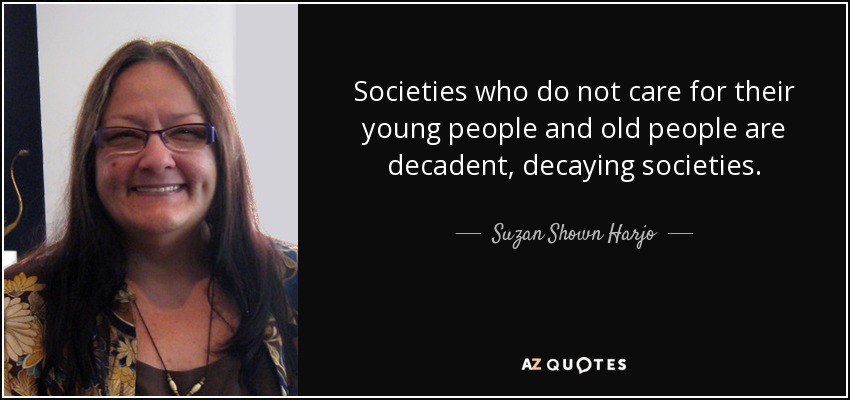 Suzan Shown Harjo (Cheyenne and Muscogee)
Suzan Shown Harjo is a Native American activist who has dedicated her life to advancing the rights and preserving the culture of Native Americans. She spent her childhood growing up on a reservation in Oklahoma, where she experienced poverty; going without basic necessities such as indoor plumbing. The barriers and challenges she experienced and witnessed by the people on the reservation would later influence her work as an advocate and artist. Her career began as a co-producer of the first ever Native American news show in the United States, called "Seeing Red" on WBAI FM in New York City. During her time in New York, Suzan delved into many creative projects including co-founding the improvisational Spiderwoman Theatre Company and producing plays and radio broadcasts. After a series of life-threatening accidents concerning her family, she seized an opportunity to move to Washington DC where she dedicated herself to elevating the rights of Native Americans.
She worked as a legislative liaison and served as the news director for the American Indian Press Association before she appointed as a Congressional Liaison for Indian Affairs in 1978 by President Jimmy Carter and this position she supported policies that secured the voting and land rights for Native Americans. She also served as the Executive Director of the National Congress of American Indians where she advocated for investment in Native American education and contributed to the development of key federal legislation including the Native American Graves Protection and Repatriation Act, American Indian Religious Freedom Act and the National Museum of the American Indian Act.
Suzan continues to advocate for Native Americans, helping recovering land and sacred artifacts for her people. Suzan has also been a fervent advocate of ending the use of American Indian mascots for sports teams and filed a petition, Pro-Football, Inc. v. Harjo, alongside activist Vine Deloria, to cancel the registration of the Washington, DC National Football League team. The petition was ultimately dismissed, but it sparked a national discussion on stereotypes of Native Americans in popular culture. An artist at heart, Suzan has also published books and poetry that celebrate the Native American culture.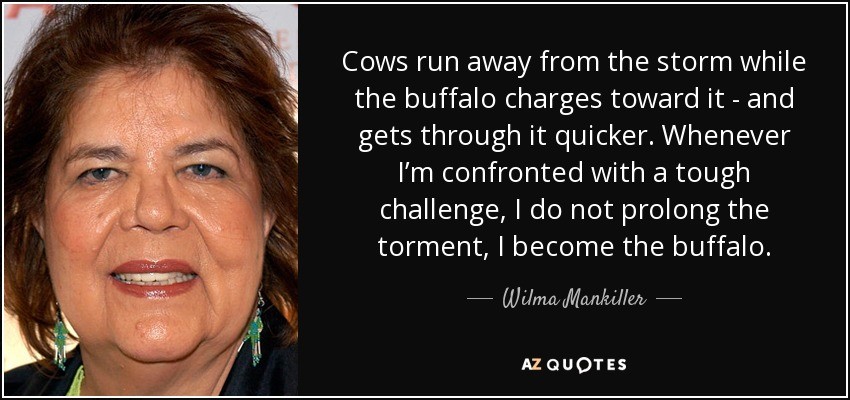 Wilma Mankiller (Cherokee)
Wilma Mankiller was a social worker who became the first Principal Chief of the Cherokee Nation, a position she held from 1985-1995. Wilma grew up on her family's tribal land in Adair County, Oklahoma, where her mother and father, a full-blooded Cherokee, immersed her and her siblings in Native American culture and customs. As she grew up, her family moved across the country many times, which contributed to Wilma feeling like an outsider as children being made fun of her for the way she looked and talked. Although she was criticized by her peers, Wilma held onto her Native American heritage. In the 1960s, young Wilma joined other student activists inspired by the Occupation of Alcatraz, a nineteen-month take-over of Alcatraz Island by Native American activist group, Red Power. She would go on to be the founder of the Native American Youth Center in East Oakland, California. Wilma also served in various roles with the Cherokee Nation including developing an educational program for Cherokee youth and she spearheaded several successful community development programs that supported Native American communities.
Mankiller's work and dedication were noticed by tribal chief Ross Swimmer who asked her to be his running mate as Deputy Chief during the 1983 Tribal Chief election. During the election, Wilma faced extreme sexism, and she had her tires slashed and even received death threats. Despite these challenges, she remained in the race eventually becoming Deputy Chief and then Principal Chief in 1985 after Chief Swimmer's resignation. During her ten-year tenure as Principal Chief, Wilma made great strides in changing the perceptions of Native Americans in the United States. She would establish relationships with influential partners to elevate her cause in improving health and housing services and negotiated with the state of Oklahoma for tax sharing for businesses operating on Cherokee lands. She would also continue developing programs for Native American youth which played a significant part of her early advocacy. As Principle Chief, she revived Sequoyah High School, a Native American boarding school in Oklahoma and worked with the Association of University Women to establish a mentorship for Native American girls to guide them on career opportunities.
WE CAN acknowledges that the term Native American is not universally accepted. Please read this article to learn why some prefer American Indian, indigenous peoples, or tribal affiliations.
Sincerely,
Sakiera Malone, Intern