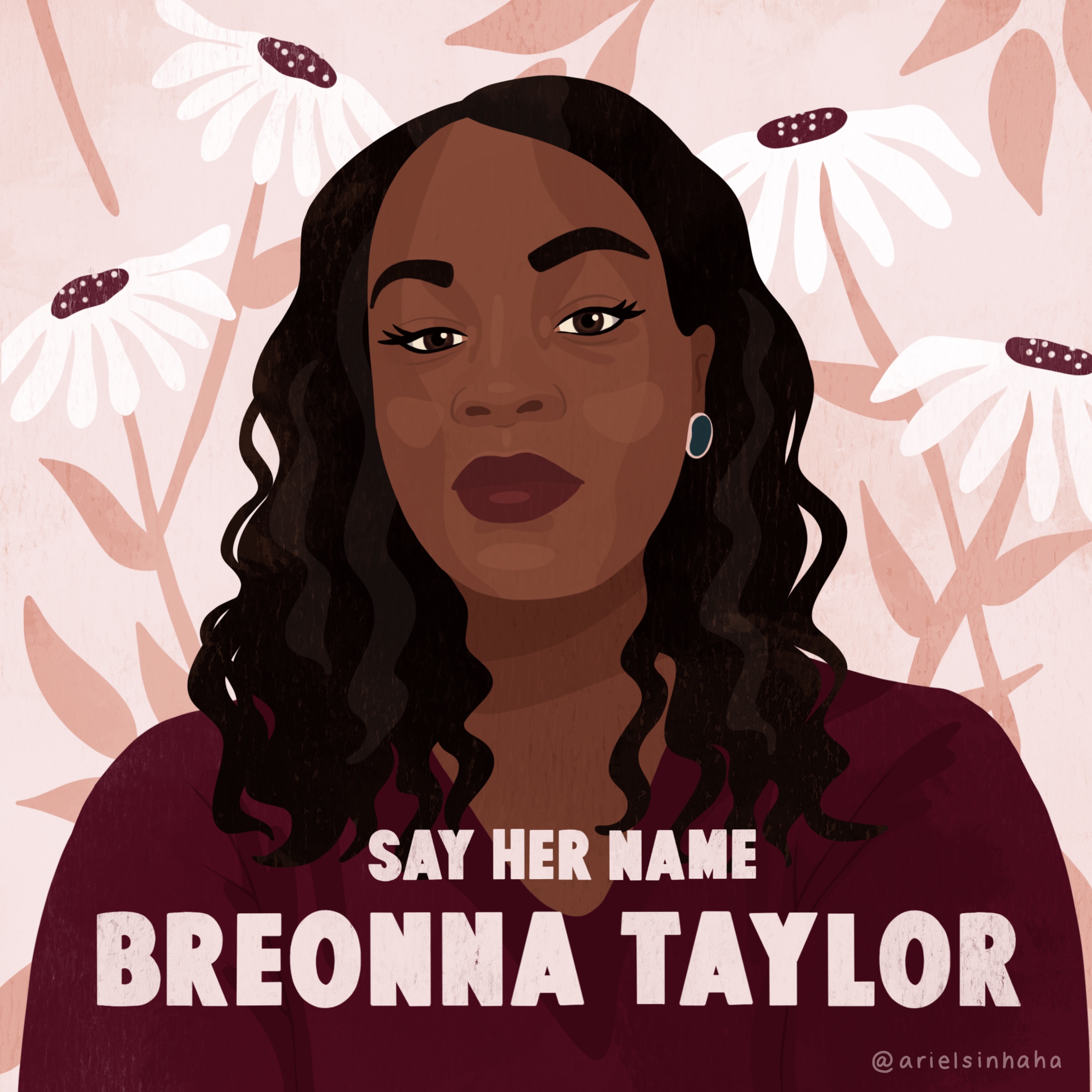 Mobilize Monday: Justice for Breonna Taylor
Say Her Name ~ Breonna Taylor
Sisters,
I am not ok.
I am angry.
I am hurt.
I am frustrated.
I am scared.
I fear for the health and well-being of all Black Americans. I fear for the stability of our government and communities. I fear that the protests of the past week will erupt into full-on civil war with Black bodies wearing the biggest targets. I fear that our collective cries for justice will be ignored again (Breonna Taylor), and again (Ahmaud Arbery), and again (George Floyd).
I have tried not to lose hope and have cried more times than I want to admit. But I write today with resolve, purpose, and hope.
I have hope because the forces that would keep us down have forgotten that we have been here before. We have lived through slavery, segregation, the old and new Jim Crow, and still stand. We shall overcome!
I encourage all of you who are protesting to do so as safely as possible. The coronavirus is still a threat to your life. Wear a mask, use hand sanitizer, and please, stay home if you are sick.
Whether you attend a protest or watch from home, we can all demand justice. Use your phone and computer to protest the persistent violence against Black men and women. Use your phone and computer to direct your anger, frustration, grief, pain, and fear towards the people who can take definitive steps toward justice for Sister Breonna.
Say Her Name ~ Breonna Taylor
Breonna Taylor was murdered in her home on March 13, 2020. The prosecutor Thomas B. Wine, the Commonwealth's Attorney in Louisville, has so far taken a very shady position in the case. He charged Breonna's boyfriend with attempted murder for shooting one of the unidentified police officers who broke into their apartment on a 'no-knock' warrant. The charges have been dropped, but Mr. Wine has said, "…he would not rule out the possibility of filing charges again after the FBI and other agencies had completed their reviews of the shooting."
Kentucky Governor Andy Beshear has welcomed the intervention of the state attorney general, the local prosecutor, and the FBI has launched an investigation into the case.
Today for Breonna:
Call the Louisville FBI and leave a message for Special Agent in Charge James (Robert) Brown, Jr. at (502) 263-6000.
Special Agent Brown is no rookie when it comes to investigating high profile cases; he oversaw the FBI's response to and subsequent investigation of the 2015 Emanuel AME Church mass shooting in Charleston, South Carolina.
Script:

Thank you for opening an investigation into the murder of Breonna Taylor. I am concerned that Breonna's death has not been properly and thoroughly investigated, and I am counting on your office to see that Breonna receives justice.
Call Commonwealth's Attorney (Louisville County) Thomas Wine's office at (502) 595-2300.
Let Mr. Wine know the world is watching how he handles the case to earn justice for Breonna. Encourage anyone you know that lives in Louisville County to remind him they will be watching his conduct closely until January 5, 2025, when he is up for re-election. He needs to know that he now has their attention.
Script:

Mr. Wine I expect you to pursue justice for Breonna Taylor. Thank you for doing the right thing by dropping the charges against Mr. Kenneth Walker. Now turn your attention to the police officers who broke into Breonna's home. Cooperate with the FBI and other investigators because it is the right thing to do. Our community is watching. The country is watching.
If you want to write a letter or postcard, you can send it to him, using proper mail etiquette as shown below: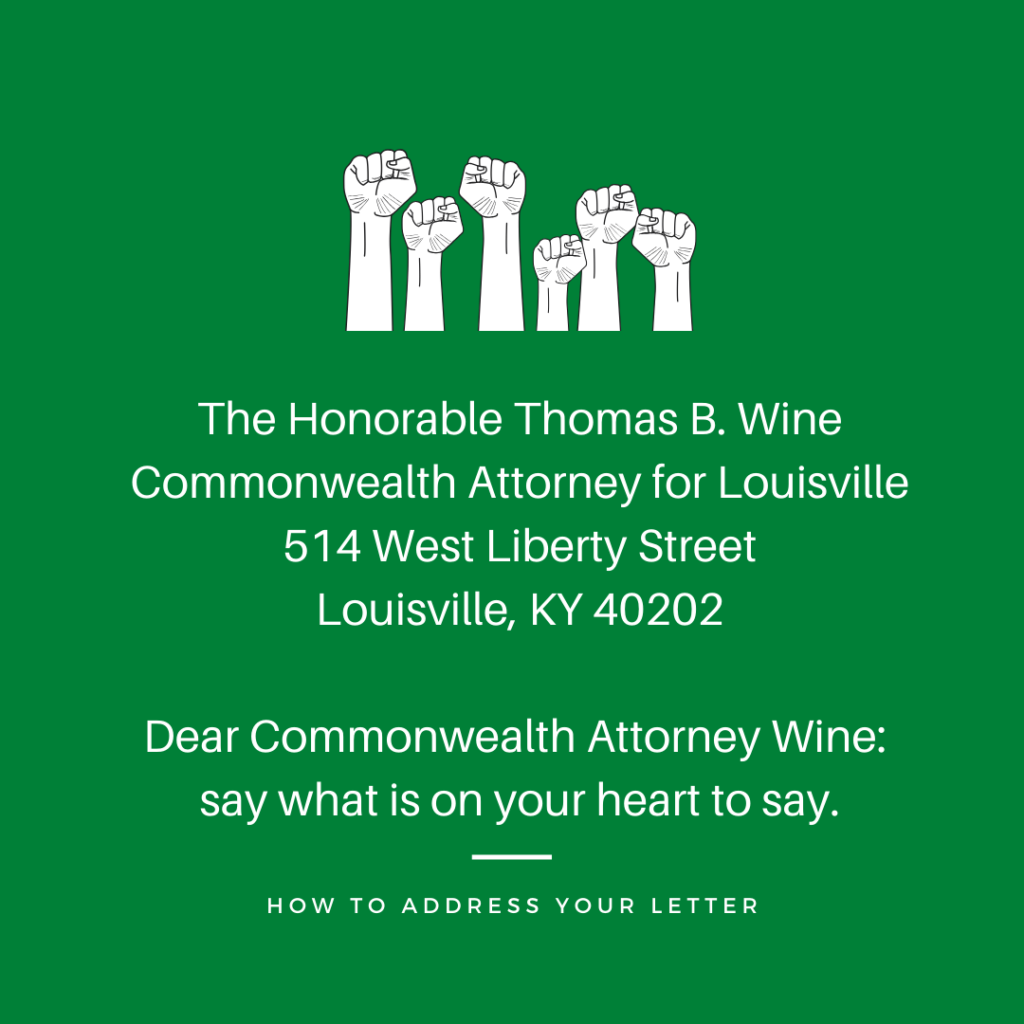 After you have made calls (or written) for Breonna, say a prayer for her family. Grief is hard enough without the knowledge that the persons who caused your pain may go unpunished.
Our journey to justice is just beginning.
In strength and solidarity,
Stephanie McGencey, President/Founder, WE CAN